L.H. Selman Ltd. is pleased to announce a rare opportunity for you to meet Michael Hunter, an exceptional artist and master craftsman in the glass art field.  Mike and Sue, his wife and studio partner, of TWISTS GLASS STUDIO of Scotland, will be in Chicago and available for 1 day, April 22.  We invite you to join us at the L.H. Selman Ltd. Gallery of Fine Glass Paperweights to meet them and enjoy a presentation by the award-winning glassmaker (sorry- no demonstrations that afternoon). The Hunters will also be exhibiting new paperweights and glasswork.
No Admission Charge. Refreshments will be served.
Read more about Mike and Sue Hunter and Twists Glass Studio on our website: Twists Glass Studio Bio
WHO:            Mike and Susan Hunter of Twists Glass Studio
WHAT:           Lecture/Conversation and Presentation of newly arrived works
WHEN:          Saturday, April 22, 1- 4 p.m.
WHERE:        L.H. Selman Gallery, 410 South Michigan Ave., Chicago, IL. 60605
WHY:             Because You Deserve It!
 QUESTIONS: Please Contact Paul or Molly at 312-583-1177 or 800-538-0766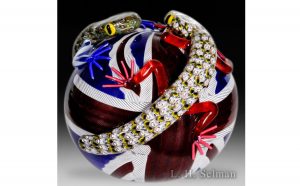 Mike Hunter 2015 "Devo" magnum paperweight. In honor of the proposed Scottish secession of 2014, two three-dimensional lizards, each made from astonishing compilations of murrini faces, climb across a large red, white and blue orb draped on one side with the British flag and on the other with that of Scotland. Edition #1 of 1. Signature cane. Signed. Diameter 4 1/4″.