CLICK THIS AUCTION WEBSITE LINK TO PLACE BIDS
CLICK THIS AUCTION WEBSITE LINK TO PLACE BIDS
CLICK to view the LIST of RESERVE PRICES
L.H. Selman, Ltd. is excited to announce our Fall 2016, 64th Glass Paperweight Auction, featuring 336 lots, antique and modern, as well as some choice paperweight-related objects. The auction is fully online, hosted on our AUCTION WEBSITE. A web friendly digital e-catalog can be viewed at E-CATALOG. Initial bidding starts today October 24th, and will end on Monday, November 7th. If you see something to your liking, do not hesitate to place an initial bid in order to ensure your position in the ensuing competitive bidding that follows in the second half of the auction. (We recommend that you give the catalog careful examination for a full understanding of the protocols.) You can also see every lot in person at our gallery in Chicago, 410 S. Michigan Ave., #207. If it's possible for you, we would love to see you in person! If you prefer to place bids by phone or you have any questions , just give us a call at 1-800-538-0766.
We share here just a few highlights and sidelights of Auction 64 with you…
Science and Art Come Together in an incredibly Rare offering from the Queen of the Adriatic!
Our very first lot in this auction is a rare antique Pietro Bigaglia and Giovanni Franchini 1847 "IX Congresso degli scienziati in Venezia" commemorative paperweight. Created in honor of the 9th Congress of Scientists held in Venice, the last of a series of conferences that took place annually between 1839 and 1847.  The commemorative paperweights were offered to the scholars that attended and include a large dated dedication cane. The initials "DEM", below the dedication cane, identify the now anonymous recipient.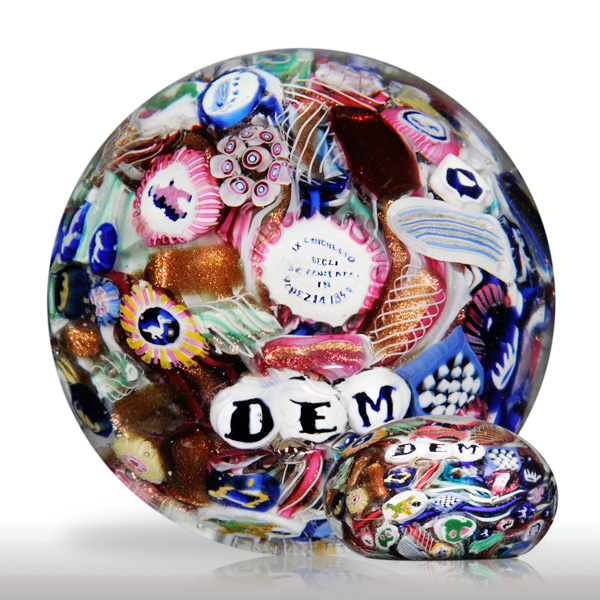 Two additional date canes are scattered amongst picture canes of a crown, a lyre, the lion of St. Mark, a Venetian lagoon railroad bridge, chequer boards, animals, half-moons, Goldoni's Commedia dell'Arte harlequin and pantaloon characters, rose bushes and other colorful millefiori. The cane subjects represent the essence of Italian culture at the time of the convention, as seen by Franchini. Bigaglia received awards and celebrity for the use of these canes in his paperweights, to the extent that just two years prior, at the 1845 Vienna Exhibition of Austrian Industry, Bigaglia presented a paperweight that inspired the subsequent Classical paperweight industry of France. A crown jewel for any serious collection of antique paperweights, and No, you probably won't be seeing this one again….
Nothing Beats a Dozen Roses…
A major theme in this auction is crimp weights, the first of which can be found in lot 25, an antique Millville crimp tulip, by Ralph Barber.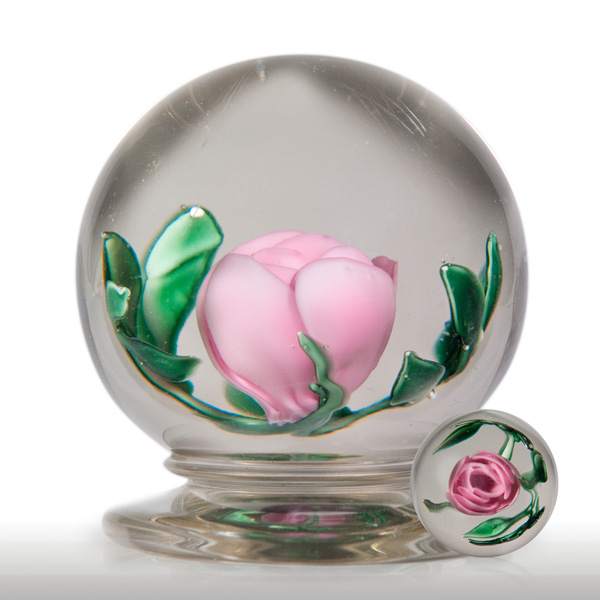 Crimp roses are particularly American, as the first crimp rose is attributed as being developed in Millville, New Jersey at the Whitall Tatum & Company glass factory. Millville and factories in the surrounding area, as well as individual craftsmen such as Ralph Barber, became known for their crimped flowers. Barber worked at Whitall Tatum starting in the early 1890s, originally making his own iron crimps, although he later used ones that the factory's toolmakers forged.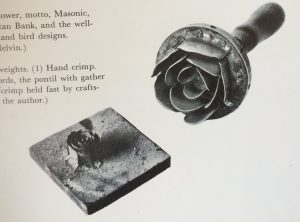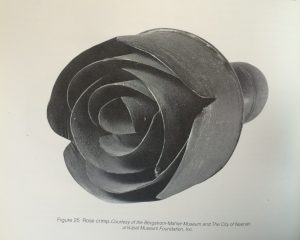 The process of creating crimp weights is a challenging one, first requiring the creation of a hand-forged mold, or crimp, in the desired shape. Next, colored glass is placed against the clear glass, heated, and then the crimp is pressed into the colored glass to push it upwards into the clear glass. The crimp is then quickly removed so the base of the weight can be shaped to allow the rose to achieve its full potential. To give an idea of the difficulty, it took Francis Whittemore, who was inspired by Millville crimps, about five years of trial before he was able to master the crimp process.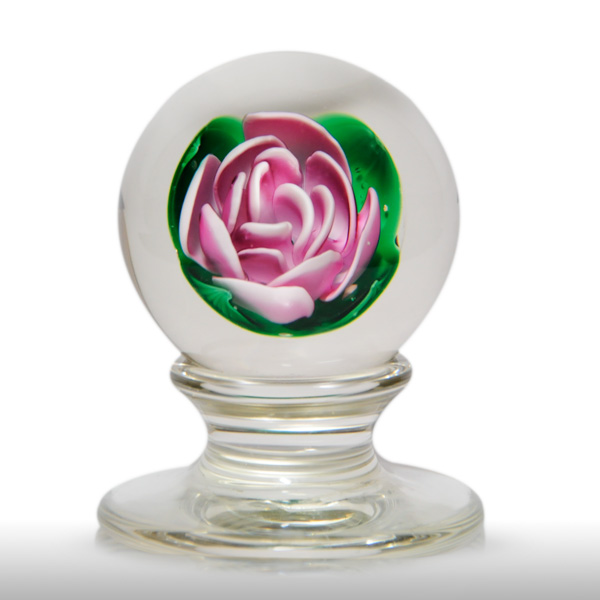 Our modern section features twelve crimp rose weights and perfume bottles by an assortment of artists, including Francis Whittemore, Charles Kaziun Jr., Joe St. Clair, Joe Rice, Chris Sherwin, and Eric Hansen.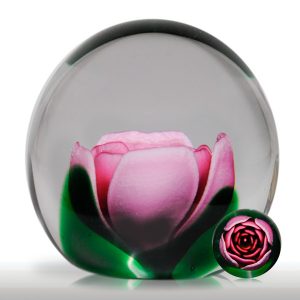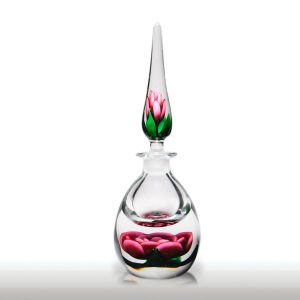 Cathedral Window Starter Kit!
New to our auction this season are two Rick Ayotte stained-glass window inserts, uniquely designed to be positioned into a window or hanged in front of one, as shown below.
One glass features a cardinal resting atop dogwood blossoms, while the other contains a starthroat hummingbird visiting a trio of mirabilis flowers. Either would make a charming addition to any window.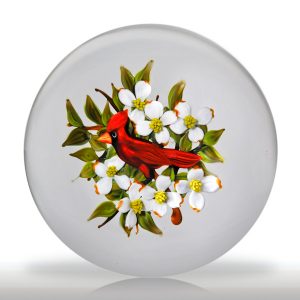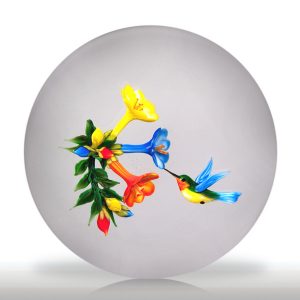 "Autumn is a second spring when every leaf is a flower."
― Albert Camus
Strategically scattered throughout the modern section of the auction, one will find the flowers, fruits and colors of the fall season…
One such can be found with the lovely Paul Stankard cube sculpture that features the life cycle of orange sunflowers. The sunflowers are supported by a male and female root people couple that nests in the roots along with the word canes "Roots", "Wet" and "Fertile".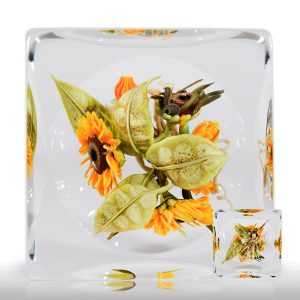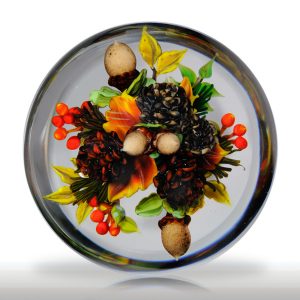 Rick Ayotte's "Fall Bouquet" is another paperweight that captures the feeling of the season. Four brown and rust-colored jack pine cones gather loosely over spruce and fir branches, with warmly-colored bunches of berries and leaves, dotted with the occasional acorn.
Some other fall symbols can be found in Jim D'Onofrio's overall-clad scarecrow or Yaffa and Jeff Todd's "Gathering", full of falling leaves and busy squirrels.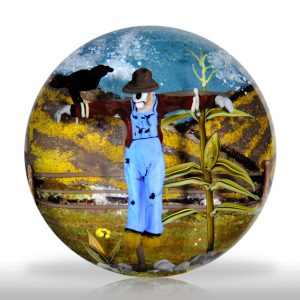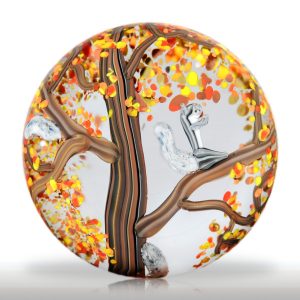 In addition, if you keep an eye out you might notice that this auction is also sprinkled with a myriad of specific themes and motifs.  These include a very formidable Halloweenish Gargoyle D'Onofrio and a Lundberg studio's elegant pumpkin (red rounded inkwell with curling stopper).  Sacred emblems are represented by the Antique Baccarat mother and child sulphide monstrance and the Helen MacDonald Dreidel.  Wintry landscapes include  Rick Ayotte's  "After the Storm" featuring a brilliant cardinal resting on a branch of snow-dusted pine needles… not to mention a hilarious portrayal by D'Onofrio of a very compromised hero in "The Night They Found Santa".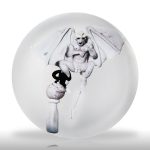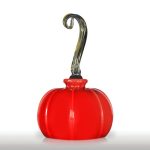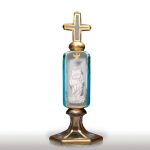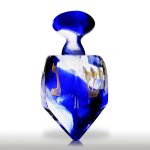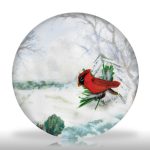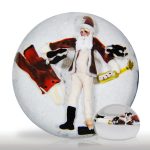 Other celebrities abound with Jean Hartwig's Elvis Presley faceted sulphide weight, the Saint Louis King Tutankhamen gold inclusion and the beloved Will Rogers in a green and white double overlay.  There's a lovely Saint Louis portrait of Dionysus temptingly poised with a goblet amidst hints of the vineyard and encircled by richly toned grapes on the vine – for the sommelier in your family.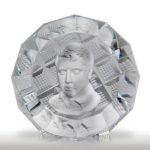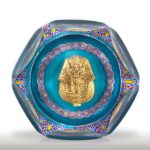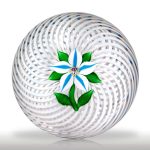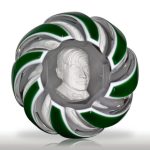 Power and Transformation in a Glass!
And speaking of specific themes, one of our antique offerings is a fabulous, rare Baccarat concentric patterned shamrock and butterfly millefiori. The shamrock has long been considered a sacred symbol, with the power to avert evil spirits. It also symbolizes the number "3" which has long been considered a powerful and potent number in many faiths and cultures.
Perfecting the numeric considerations, there are 7 of them.
Adding to the positive qualities of the deeply verdant shamrocks are 12 spaced golden wing butterflies. In many societies the butterfly symbolizes the power of metamorphosis and transformation, and in Greek myth, Psyche, "the Soul" is often represented by a butterfly. Here in this antique Baccarat, their power and beauty are combined!  Please take a good look at this one; it is special.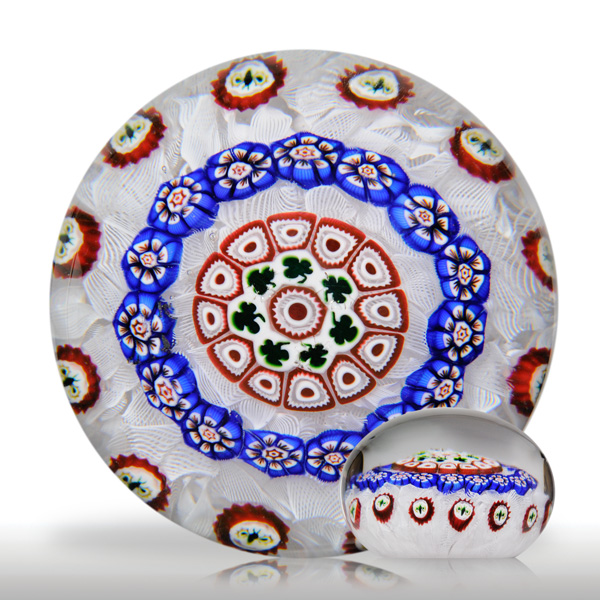 More next time, but do pay close attention to the catalog. There's more there than meets the eye at a glance!
Fig. 1; Melvin, Jean S., American Glass Paperweights and Their Makers (Thomas Nelson & Sons, 1970), 69.
Fig. 2; Newell, Clarence A., Old Glass Paperweights of Southern New Jersey: An American Folk Art (Papier Presse, 1989), 50.
Fig. 3; Selman, Lawrence H., Songs Without Words: The Art of the Paperweight – Rick Ayotte (Paperweight Press, 1997), 22.