Paperweight-related Objects
In addition to paperweights, most of the glass factories of the classic period produced other objects that contained millefiori and lampwork motifs. The many forms ofthese pieces include tazzas, shot glasses, handcoolers, goblets, vases, seals, statues, candlesticks, and plaques. As with paperweights, the canes and lampwork designs present in these pieces are the most helpful clues in identification.
Handcoolers
Handcoolers are solid or hollow blown ovoid glass objects containing millefiori canes or lampwork motifs. These objects might have been used by Aactorian ladies to keep their hands cool and dry. In The Encyclopedia of Glass Paperweights, glass historian Paul Hollister cites a passage from the late nineteenth-century book Glass in the Old II arid, by M. A. Wallace-Dunlop, which traces the origins of handcoolers back to Roman times:
Roman ladies used glass balls to cool and whiten their hands; as the glass grew heated, they changed the ball. The poet Propertius, 51 B.c., describes "Cynthia demanding the present ot a peacock feather, fan, and cooling halls for her hands." An alabaster urn, which was found in Rome, contained sixty glass halls, which gave rise to many discussions as to their probable use; they were most likely the cooling halls of a Roman belle. The female figure found on an amphora found at Nola, apparently throwing coloured halls in the air, is most likely playing with her own cooling halls, and not with worsted as has been suggested.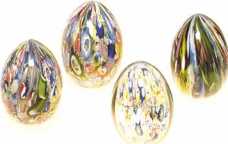 Baccarat: There are very few Baccarat handcoolers. The pieces they did produce are usually hollow double overlays with many small facets.
Saint Louis: Saint Louis produced handcoolers with close packed millefiori and scrambled designs. These pieces were sometimes made in two sections that were fused together and were usually solid. One Saint Louis millefiori handcooler contains an 1845 date cane, one ot the earliest dates recorded in a Saint Louis millefiori piece.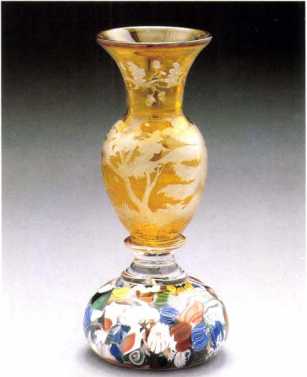 Saint Louis also produced handcoolers containing upright bouquets in clear glass. Some overlaid hollow weights are also attributed to Saint Louis.
Tazzas and Other Glass Containers with Paperw eight Bases
Baccarat: Baccarat made wafer dishes and other objects with close packed millefiori paperweight bases.
Saint Louis: Saint Louis is known to have made tazzas, shot glasses, wafer dishes, and other glass pieces with paperweight bases. Often the paperweight bases in these pieces were made up of scrambled millefiori.
Saint Louis tazzas are rare. Often these bowls have a white or colored spiral twist rim. Scrambled millefiori weight bases are most common, but crown bases are known to exist.
Saint Louis shot glasses and penholders usually have millefiori or crown bases. The cups of the pieces were often spirally threaded or basket woven with latticinio and filigree.
Saint Louis: These small objects were usually faceted and sometimes contained a tiny upright bouquet in the clear glass handle.
Mount Washington: Mount Washington is believed to have made a flat shield-shaped seal containing lampwork strawberries.
Bottles and Decanters
Clichy: Clichy made a variety' of these v essels.
Saint Louis: Most Saint Louis bottles and decanters were either flashed and faceted or latticinio swirled. Some stoppers contain upright bouquets.
Venetian: Some Venetian bottles contain portrait
canes by Bigaglia and other early glass workers.
Newel Posts
Baccarat: Among other newel post designs, Baccarat produced pieces with close packed millefiori arrangements.
Clichy: One Clichy newel post contains spaced millefiori canes including a Clichy rose at the center. The canes are separated by short filigree twists. Clichy is also known to have produced other ty pes of newel posts including one with scattered millefiori set on a clear ground.
Saint Louis: In one example, a Saint Louis crown newel post is decorated with red, white, and blue twisted glass ribbons alternating with white filigree twists. On the bottom of this piece is an oval paper label inscribed in ink "annee/1847/16."
Plaques
Clichy: Clichy produced a rare rectangular floral plaque that contains a flat bouquet set on opalescent white.
Mount Washington: Rectangular glass plaques, measuring approximately 5″ x 3 1/2″ x 1″, are thought to have been made by Mount Washington. They contain large, intricate bouquets. The edges are beveled and the bottoms are either diamond-cut, frosted, or clear. Only a few of these rare pieces are known to exist. Some scholars have attributed them to the Union Glass Company of Somerville, Massachusetts.
Glasses
Baccarat: Baccarat produced water sets with clear glass pitchers, glasses, and trays studded with millefiori canes.
Saint Louis: Saint Louis is known to have fashioned water sets with lampwork upright bouquets in the decanter stoppers.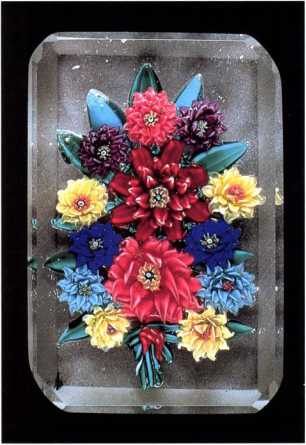 Whitefriars: This factory made the majority of small tumblers like shot glasses. These pieces contain a concentric millefiori motif in the base. Some stemmed examples are also known.