American Factories
Like so many developments that were transported from Europe to America during the seventeenth and eighteenth centuries, paperweight making arrived in the United States perhaps a decade after its appearance in Europe. American glass factories became interested in paperweight production after seeing the European weights on display at the Great Exhibition in London in 1851. It is also likely that Americans traveling abroad in the 1840s saw examples of paperw eights.
The first dated American paperweight that has been authenticated was produced by the New England Glass Company in honor of the Great Exhibition in London in 1851. The piece was a flat, hexagonal-shaped plaque with impressed intaglio portraits of Victoria and Albert in the clear crystal base. The follow ing year, 1852, seems to be the beginning of serious production of paperweights at New England Glass Company, as numerous examples of w eights dated 1852 are extant. Also, the company exhibited a fair number of "fancy paperweights" at the New York Exhibition of the Industry of All Nations, held in the United States Crystal Palace at Fifth Avenue and 42nd Street in 1853. American glasshouses were quick to sense a favorable public reaction to the impressive exhibit of French paperweights at the Exhibition. The American journalist I lorace Greeley commented on the products of Clichv in a lengthv article printed in the AVzr York Tribune in 1853:
I lie collection of Mr. Mae/, [sic] of Clichv, near Paris, is a very extensive and beautiful one. Besides being a manufacturer of glass, he is also well acquainted with the chemical department of his art, as
is evinced by the heatin' and novelty of some of his productions, for which he has received two medals from his own country and from England at the London Exhibition. The latter was given lor lenses and glass for optical instruments; a Council medal for novelty'of chemical application, and a prize medal for a prism of zinc glass…. Not only is the ornamentation and coloring of Mr. Maez's collection of great merit, but in the design and form of the vessels there is great taste…. The imitation of Venetian glass and filigree work is very good. The paper-weights are here in innumerable variety.
Many of the early American weights were imitative of the French sty le—scrambled, millefiori, nosegay, and fruit yveights in clear glass or on Iatticinio grounds. Generally American weights contained canes that were less complex in structure than the French weights. 1 lowever, the American makers soon infused a certain individuality' and style into their yvork and branched off into an astounding array of lampwork subjects.
The history of paperweight making in America is documented more fully than production in France. Even the names of some American glass- yvorkers are known. Three American glasshouses stand out as the principal paperweight producers in these early years: the New England Glass Company of East Cambridge (NEGC); the Boston & Sandyvich Glass Company at Sandyvich on Cape Cod (Sandwich); and the Mount W ashington Glass Works of South Boston and New Bedford. All three factories yvere founded by Denting Jar- yes, an enterprising Boston merchant. They all also drew from the same group of skilled craftsmen, many of whom began as European apprentices. Occasionally, these craftsmen even swapped millefiori rods(knoyvinglyorunknoyvingly). Therefore, it is sometimes difficult to distinguish between the papenveights made at each factory, though each glasshouse had a distinct history and reputation.
Paperweight design and production continued intermittently in the United States into the early' part of the twentieth century. I lowever, it was not until the 1950s that renewed interest and enthusiasm for these objects caused vigorous production of paperweights to be resumed.
The New England Glass Company
The Neyv England Glass Company (NEGC), also referred to simply as "Cambridge Glass," came into being in 1818. It grew out of the purchase at public auction of two Cambridge firms: the Boston Porcelain & Glass Company and Emmet, Fisher & Flowers. Four partners, among them Deming Janes, who became general manager, incorporated in 1818 as the New England Glass Company of Lechmere Point, East Cambridge, Massachusetts.
The company set up a six-pot furnace and hired forty men for the production of fine flint glass. Scarcely a year later, the factory was employing eighty men and sixteen "youngsters" and producing $65,000 worth of glass per year. The New England Glass Company quickly became one of the leading flint glass producers in the country- Workers there began experimenting with decorative glassware and their extensive product line included every variety of plain, engraved, and pressed glass. By 1850 the factory's work force had grown to five hundred men, working around the clock. At that time the business had a gross output of $500,000 per annum.
The Neyv England Glass Company produced paperweights from about 1850 to 1880. Its first knoyvn weight was a piece commemorating the Great Exhibition of 1851, xvhich featured intaglio portraits of Queen Victoria and Prince Albert. In 1856 the company exhibited weights at the Franklin Institute's twenty-fifth exhibition in Philadelphia and at the Charitable Mechanics' Association exhibition in Mechanics' Hall in Boston, where Sandyvich Glass also displayed paperweights. The fact that the company included paperweights in its commercial display indicates that yveights were not regarded as incidental "lunch-hour" production items.
There were several talented craftsmen wrho worked with NEGC over the years. The first medallion weights produced by the company in 1851 are associated with the I Iopkins family. John Hopkins is said to have made millefiori yveights around 1869 and his hither, Thomas, is known to have been employed when the early intaglio yveights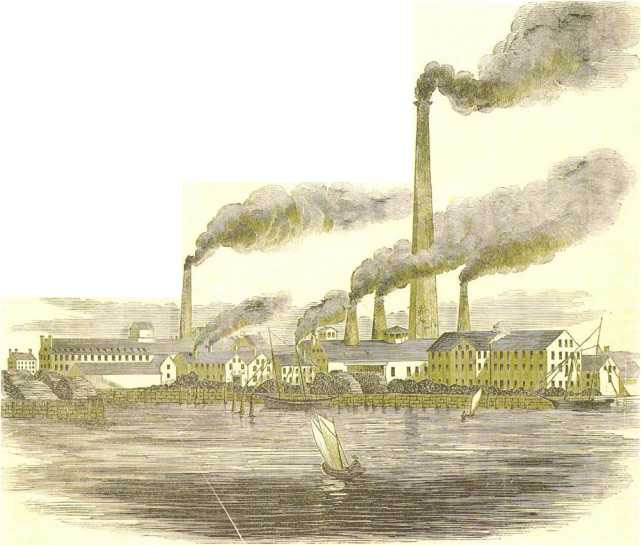 ' lishmcnt situated
East Cambridge, Mass. The subject of the ngraring is one that cannot fail to interest our :adcn, as there is hardly a family from Maine
>Louisiana, who have not more or less of its eccllcnt ware in domestic use. Every descrip- on of glass ware, from a simple prevsed wine- lass to the most elaborately cut und rich- lntcd, gilded, silvered and engraved glass-ware,
produced here in a style of beauty and excellence unrivalled in the world, and far sur- assing in beauty the finest manufactures of Do- emia. It would be a fruitless task for us to at- ;mpt a description of tho various processes by hich these articles arc finally turned out in icir perfect form, and must Icavo the reader ifllcicntly interested by tho scene wc present nd this brief mention of tho subject, to induco personal inspection of tho works themselves, 'ho New England Glass Company was incor- orated in 1818, by an net cf the Stnto Icgisla- ire, and is tho oldest establishment of tho kind at one in tho country, and tho largest in the •orld, Tho average number of workmen con* acted with tho company's works is about four undred and fifty. The number of furnaces now t use is five; and these arc in n sivc establishment can turn out even tho fancy descriptions ot tho articlo superior to tho manufactures of Europe. Tho company's ware-room in Hoston is in the old Sun Tavern Building. Battery- march Street, between 149 and 131 Milk Street. Tho olliccrs of tiro New England Glass Company aro as followsCharles W. Cartwright, President; Joseph N. Howe, Clerk; Andrew T. Hall, Treasurer; Edmund Munroc, Daniel Satford, Calvin W. Clark, James Longlcy, Directors ; Joseph N. Howe, Agent. The directors havo full power to direct all tho operations of the company, in tho mauncr they shall deem most expedient, in relation to tho management of their estates and property, the extension or limitation of their works, tho manufacture and solo of articles, tho purchase of materials, and in all things havo and exercise tho wholo power which the company have, excepting where it is otherwise provided by tho by-laws, or where it may be otherwise ordered by tho company, who reserve to themselves full power at pleasure to control tho doings of the directors.
3.17 The Sciv England Glass Company c. I<V) 1
were made. Thomas Leighton (1786-1849) became a superintendent at NEGC in 1826. In order to evade the British law that forbade glassworkers from leaving the country, Leighton left his home in Birmingham on the pretext of traveling to France on a fishing trip. Five of Leighton s seven sons became glass workers at NECiC. William Leighton, the most creative of the sons, discovered an original formula for the popular ruby glass. I le also produced some of the factory's most highly prized double overlays.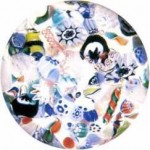 The most notable name at NEGC was Frank (Francois) Pierre (1834-1872), an Alsatian who served as an apprentice at Baccarat and began working at NEGC in 1849. Pierre was known for creating the blown pear and apple fruit weights, XFGC's forte, as well as some of the company's finest millefiori pieces. Pierre came to NEGC at the age of fifteen and worked there until he died at age thirty-eight. According to Lura W. Watkins, author of.-American Glass and Glassmaking, Pierre's health was not good, and he retreated to the tropics in the winter of each year with a group of glassblowers who gave exhibitions during which they enclosed ships and birds under the domes of their weights. Pierre's lampwork fruit weights and millefiori pieces had a great influence on paperweight making in America, particularly on the work of William F. Gillinder, who also worked at NEGC at that time.
For NEGC, the 1870s brought severe problems involving labor disputes, rising fuel costs, and fiscal mismanagement. In 1878 the firm was leased to William L. Libbey, who was joined by his son Edward Drummond Libbev as a partner in the firm. William Libbey died in 1883 and Edward continued to manage the business. In response to a labor strike in 1888, Edward closed down the New England plant and moved the operation to Toledo, ()hio. I Ie took with him about one hundred
glassworkers, one of whom was Michael J. Owens, the chief union organizer. Owens became the manager of the new facility, and went on to invent a bottle-making device that revolutionized the glass container industry. The modern facility of Libbey-Owens-Ford is a direct outgrowth of this association.
Sandwich
In 1823, Denting Jarves, the general manager or "agent" of the glass operations at the New England Glass Company, inherited $25,000 after his father's death. Jarves went to Pittsburgh to learn more about the manufacture of fine pressed, cut, and engraved glass. In 1825, Jarves left NEGC to form his own glass factory, the Sandwich Manufacturing Company. In 1826, the firm was incorporated and renamed the Boston & Sandwich Cilass Company, known the glass world over simply as "Sandwich.''Jarves became general manager of the operation and remained with the company for thirty-three years, until 1858.
In Cambridge Glass ISIS to 1888, Lura W. W atkins quotes an advertisement signed by Jarves that was published during Sandwich's first few months of operation:
The subscriber informs his friends and the publick that his Flint Glass Manufactory in Sandwich, is now in full operation, and is ready to receive and execute orders for any article in that line—particularly Apothecaries, Chemical and I'able W ares. Also, Chandeliers for Churches and 1 lalls, Vase and Mantle Lamps, Lamp Cilasses, anil all other articles usually made in similar establishments; and on as favorable terms.
Orders directed to Sandwich, Mass, will receive prompt attention.
Sandwich began with an eight-pot furnace and seventy men. By 1854 the company had expanded to four ten-pot furnaces and five hundred men. The factory's yearly output of glass increased during this time from $75,000 to over $600,000. Jarves recruited glassworkers from NEGC and other American glasshouses, as well as from England, France, Belgium, and Ireland.
The history and growth of Sandwich closely parallels that of NEGC. The two companies competed and maintained a friendly rivalry, similar to that between Baccarat and Saint Louis, until both firms closed down in 1888. Price fixing between Sandwich and NEGC was not unknown, and the relationship between the two successful companies became an important factor within the American glass industry.
Most of the paperweights made at Sandwich during the early years were scrambled weights, some bearing the dates 1852 or 1825 or both. The 1825 date has usually been considered an error involving reversal of the last two figures in 1852. Some dated scrambled weights were made by Timothy Collins, a European immigrant whom Jarves considered his most skilled workman. It is known that Collins made for Jarves a number of paperweights and other pieces for presentation to important customers and officers of the firm.Deming Jarves left Sandwich Glass in 1858 after repeated difficulties w ith the company's board of directors. He formed the Cape Cod Glass Company for his son John; butjohn died in 1863 before the company was incorporated. Deming Janes continued with the business on his own until his death in 1869.
In the later years of Sandwich Glass, Nicholas Lutz, one of the most famous of all American glassworkers and paperweight makers, was associated with the company. Lutz was born in Saint Louis, France, in 183 5. At the age of ten he became an apprentice at the Saint Louis factory, which at that time was experimenting with millefiori techniques. 1 le later traveled throughout Europe gaining experience as a glassworker and paperweight maker. 1 le worked at a number of glassworks, including those at Murano. Along with six other glasshlow ers, Lutz migrated to the United States, w here he worked in glass factories in Pennsylvania and New York. 1 le also worked for the New Eng- land Glass Company for two years. In 1869, just before Jarves s death, Lutz began working for Sandwich, where he remained until the company closed in 1888. After that he was employed by the Mount Washington Glass Company in New Bedford, and later by the Union Glass Factory at Somerville. He died in 1904 and was buried in Sandwich. Lutz is best known for his filigree glass, French-style paperweights and related objects, and for his fruit and flower paperweights.
Like NEGC, Sandwich experienced labor problems and financial difficulties during the late 1880s. Finally in 1888 the firm closed down, despite efforts by the board of directors to keep the business operating.
Mount Washington Glass Company
In 1837, Deming Jarves started yet another glass manufacturing operation in South Boston—the Mount Washington Glass Company. Jarves started the company for his son George, who was twelve years old at the time. I lowever, it is unlikely that George had much opportunity to run the factory7 because he died in 1850 at the age of tw enty-five. I he firm changed hands many times over the followingyears, becoming W. L. Libbevand Company in 1870 when it was moved to New Bedford, Mount Washington Glass Company again in 1876, a subsidiary of Pairpoint Manufacturing Company in 1894, the Gundersen Glass Works in 1938, and then returning once more to Pairpoint Glass Works in 1957.
Information is scanty about the paperweights made there, but it is known that master glassblower Nicholas Lutz worked at Mount Washington between 1892 and 1895, perhaps creating many of the unusual and outstandingmagnum paperweights and plaques for which the company is known.
Gillinder
William T. Gillinder was born in England in 1823 and spent his earlv life in the Birmingham area. Gillinder, who began working in a glasshouse when he was eight years old, became the secretary of the National Flint Glass Makers Society of Great Britain by the time he was twenty-eight.
In 1854, Ciillinder and his family sailed for the United States because he had been offered a job as a gaffer in the main shop of the XEGC. When he arrived, he found that because of a slump in business, he was not offered the job he had negotiated tor, hut was given a less important position. (iillin- der moved frequently with his wife and children,working at various glass factories, and making an unsuccessful attempt at setting up his own glassworks in Baltimore, Maryland. Finally, in 1861, he purchased an old bottle factory in Philadelphia and started what was first called the Franklin Flint (ilass Works. It eventually became known as Cii Hinder & Sons.
At the Centennial Exposition in Philadelphia in 1876, Gillinder & Sons had its own exhibition building. There facilities and equipment were set up to demonstrate the entire glassmaking process: melting, blowing, pressing, cutting, etching, and annealing. The products made at the Centennial were sold as souvenirs; among these pieces were paperweights commemorating the Exposition.These souvenir weights included replicas of buildings at the exhibition and busts of Lincoln and Washington. Although these pieces are not paperweights in the classical tradition, they are the weights for which Clillinder is best known. William Gillinder did make a great many different types of paperweights. Canes from Gillinder & Sons, Philadelphia, were considered representative of American millefiori canes, and were used as illustrations in a survey printed in 1915.
Millville
Some of the best-known American paperweights were produced at Whitall Tatum & Company, in Millville, New Jersey. Commonly referred to as "Millville," the factory was first established in this location by James Lee and associates in 1806. It changed hands several times until 1844, when it was acquired by the Whitall brothers. In 1857 it became known as Whitall Tatum & Company. The company is probably best remembered for its green glass telephone line insulators, which were produced by the millions, and which today are considered by some to be collectible.
As early as 1863, workers at Millville were experimenting with paperweight making; cruder types of paperweights often appeared as offhand work. Over the years a variety of distinctly .American styles and design motifs were developed by these workers who were noted for their ability to produce practically any article of glass by hand. Most commonlv thev included inkwells containing large, spotted, umbrella-like lilies; clipper ships and other design profiles in powdered glass (frit weights); motto paperweights bearing slogans such as "Remember the Maine," and "Home Sweet I lome"; and presentation weights depicting color glass pictures and scenes of such subjects as hunting dogs, ships, and American eagles. Michael Kane is the only man definitely known to have made the upright sailboat, dog flushing a covet' of quail (very rare), horse, and eagle paperweights at Millville.'
Millville became famous chiefly tor the upright roses made by Emil Stanger, Marcus Kuntz, John Rhulander, Ralph Barber, and later Emil Larson. Called the "Millville Rose," these weights contained a three-dimensional upright flower set in clear glass, sometimes seated on a footed base. In addition to roses, waterlilies and tulips in this same style were also produced at Millville.
Other American Factories
Paperweights were produced in small numbers at several other glass factories in the L nited States. In general these weights were made bv glasswork- ers on their own time and were not considered part
of the official production line of the companies. I lowever, these factories served as important training grounds for glassworkers who would then go on to develop their paperweight making skills at other American factories.
One factor)' that distinctly acted as a staging area for several important American paperweight makers is Christian Dorflinger's Green Point Glassworks in Brooklyn, New York, and later his Dorf- linger Glass Works in W hite Mills, Pennsylvania. Dorflinger was born in the Alsace region of France and studied glassmaking from 1837 to 1846 at the Saint Louis factor)'. He emigrated to the United States in 1846. After establishing Green Point Glassworks in I860, Dorflinger invited Nicholas Lutz and several other Frenchmen to work at his factor)'. Others employed by Dorflinger throughout the company's history were Emil Larson. Ralph Barber, Ernest W . Yon Dohln, and Tobias Hag- berg—all glassworkers who went on to work at Sandwich, Whitall'latum N (iompanyat.Millville, and Steuben.
Glassworkers were known to have practiced paperweight making on a small scale at the Union Glass Company, Somerville, Massachusetts, where Nicholas Lutz worked for a time. Emil W inwell and Philip Bunamo made flower and other lampwork style weights. Louis Comfort Tiffany's glass company produced some large heavy weights with unusual underwater motifs; and Steuben Glass Works at Corning, New York, produced flower and motto weights as end-ot-dav items, but these were never officially marketed.