AUCTION WEBSITE LINK, CLICK HERE TO BID!
AUCTION WEBSITE LINK, CLICK HERE TO BID!
CLICK HERE TO SEE A LIST OF THE RESERVE PRICES FOR UNSOLD LOTS
As we approach what will be our 50th and 10th anniversaries as the LH Selman gallery respectively (2019 will mark 40 years in California plus 10 in Chicago), L.H. Selman, Ltd. is pleased to announce our Fall 2017, 67th Glass Paperweight Auction, featuring 340 lots, antique and modern, as well as carefully selected paperweight-related objects. Initial Bidding commences on Monday, October 23rd, at 9:00 am, CST. The auction is fully online, hosted on our AUCTION WEBSITE. A web friendly digital e-catalog can be viewed at E-CATALOGUE, while a printed copy of the catalog is for sale at PRINT CATALOGUE.  When you see an auction item that catches your eye, please do not fail to place an initial bid in order to ensure that you will have a position in the competitive bidding on that artwork, which will follow in the second half of the auction. Initial bidding ends on Monday November 6th at midnight CST, and competitive bidding begins on Tuesday, November 7th at 9:00 am, CST .  We recommend that you give the catalog's Conditions of Sale a careful examination for a full understanding of the protocols (some of them revised) or give us a call to enquire about our unique auction format. You can also make an appointment to see every lot at our gallery at 410 S. Michigan Ave., suite 207.  We would love to see you all in person! And if you prefer to bid by phone, or have any questions, just give us a call at 1-800-538-0766.  Please remember to ask for specific condition reports or to request extra photographic images; either alternate angles or close-ups. We are also happy to talk with you over the phone about a paperweight while it's in our hands.  (We've tried printing out extra views of weights to send by regular mail but the printer's inks and paper available don't allow for quality reproduction.)  The good news is that select lots, including all of the first 20 in this Fall 2017 auction, are available for viewing as spin videos. These rotating visuals are especially helpful for some of the more complex weights.  Just give a call!  312-583-1177 or 800-538-0766. Enough of the introductory niceties!  It's time to tempt you with some appetizing examples as the curtain rises for the next performance.  We have another cornucopia of visual delights, this season, including a complete set of rare knives from the collection of an Italian Princely family, exquisite and unusual antique weights,  several enticing Christmas pieces, choice marbles, and besides having every outstanding name you are used to seeing in our catalogues we have unusual entries by generally elusive artists such as Johne Parsley, James Kontes and Janet Kelman.  So get comfortable when you receive our catalogue and take your time perusing its pages, either literally or digitally. You deserve it.
Auction #67 Fall 2017 Preview
A Feast for the Eyes in a Rich Blue Basket from Our Fall Harvest…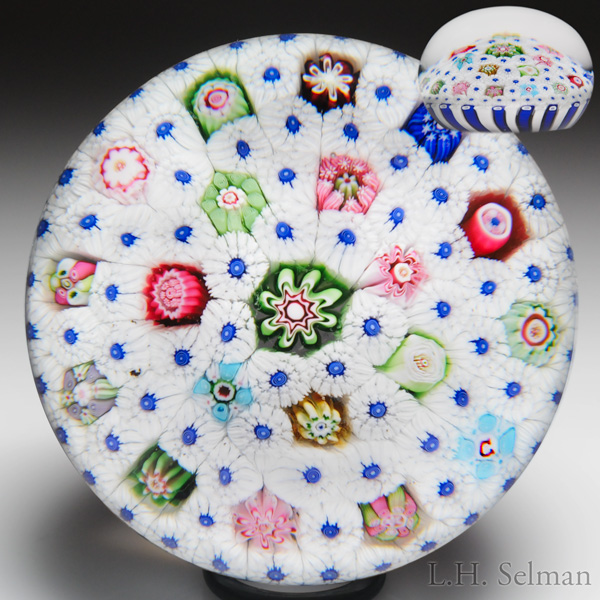 LOT 1. Exceptional and very rare antique Clichy millefiori carpet ground in a stave basket with signature cane paperweight.
"Exquisite" is the first, second and third word(s) that comes to mind for Lot 1. And at 2¼ inches diameter, if you could nestle this intimate weight in your hand and see the gorgeous pastel palette, well-designed geometries and needle-like sharpness to the execution, you would immediately be asking where the "Buy It Now" button is. According to The Dictionary of Glass Paperweights, " Ten stardust grounds have been documented from Clichy" (page 319). Crisply delicate white stardust canes with rich blue bull's-eye centers populate a field where a variety of softly colored millefiori canes are satisfyingly set in two concentric rings of 7 and 12, with a signature cane in the outer ring. It's all sheathed in a royal blue stave basket. Come see this in person if you can. Come see them all. And step up and decide if you want to be one of the ten, or might that make eleven? Est. $22,000—30,000
Come to Our Autumn Garden Party!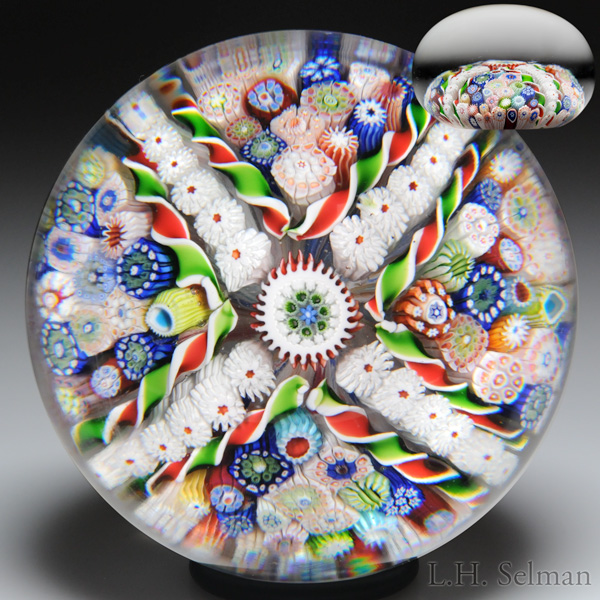 LOT 2. Spectacular and very rare antique Saint Louis four-paneled close packed millefiori cross paperweight. Spectacular is the right word here. Spectacle! This Saint Louis weight announces itself with exuberance. At 3 inches across and with an impressive heft, it's a work of art with an attitude barely contained by its carefully designated geometry reminiscent of European classic, decorative gardens. This weight has almost everything from its magnificently dominant centerpiece (with its 28 point-complex cog that looks ablaze and with a delicate blue flower nestled within and sitting atop all) at the intersection of the converging lines formed by the orderly, white ogee-tipped, red-cored flower cog canes. This cruciform is pleasingly and symmetrically bracketed by green, white and red twists that also serve to restrain the fecund garden of attending complex canes that fill the balance of the garden. Est. $16,000—20,000
Even Vegetables Sound Delicious in French!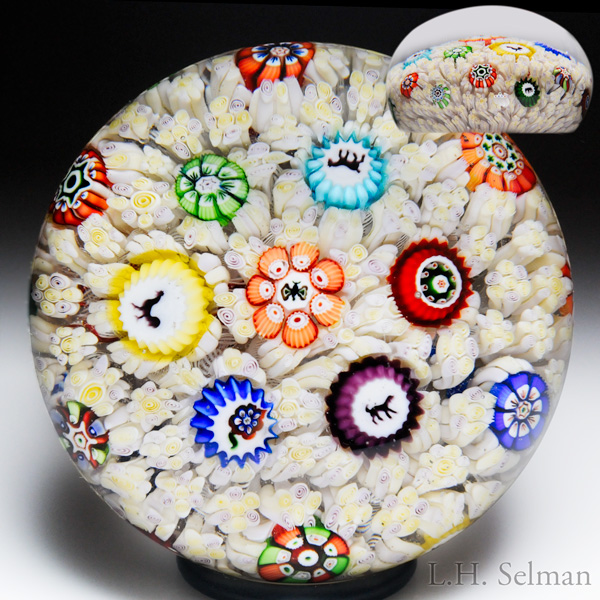 LOT 5. Rare antique Baccarat 1848 "choufleur" Gridel silhouettes and millefiori carpet ground paperweight. Reminiscent of a head of cauliflower from your French garden, this weight from the year of revolution offers a tranquil and delightful refuge. Loosely packed, complex whorl canes each centered with a pale, dusky yellow cane and surrounded by more yellow canes and still others of an almost ephemeral mauve sway gently before your eye. That subtle interplay of color and whorl lead to a quiet illusion of all over harmonious movement in a field that is anchored by a well-designed pattern of classic Gridel silhouette and picture canes interspersed throughout. Traces of latticinio can be espied if you investigate the interstices in the cane field. A wonderfully executed antique weight that rewards close inspection. Page 61 of The Encyclopedia of Glass Paperweights offers similar examples. Be careful with that spade. Est. $14,000—17,000
What Could Better than Dining in Venice with a Princely Family—Who Are Such Fine Hosts that They Offer Their Credentials!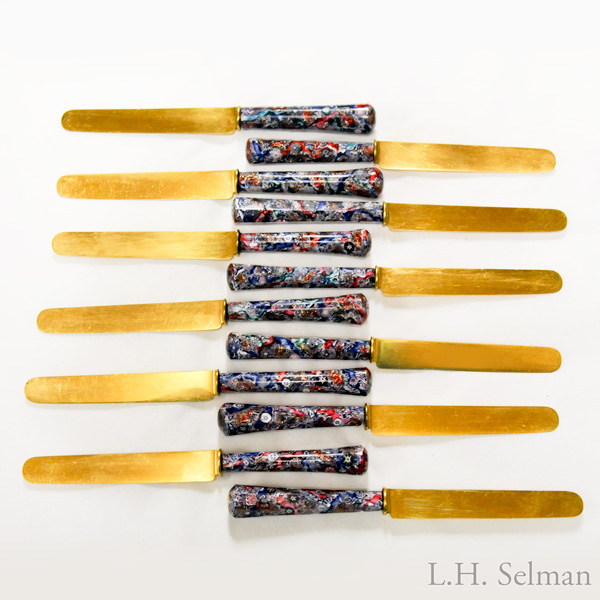 LOT 6. Antique Venetian (circa 1843-1848) Set of Twelve Enamel and Millefiori Fruit Knives, by Giovanni Battista Franchini. Where to begin? Giovanni Franchini and son Giacomo were lauded in the mid-19th century for their artistic genius and craftsmanship. They came up with letter and portrait canes, distinct millefiori and stunning enamel glass. Adapting and combining a variety of their technical methods to painstakingly assemble elements around a core, they created objects of art that were also to be useful in daily life, at least for those of means. This included walking sticks and parasols…and the regal cutlery you see offered here today. Beautiful brass-colored gilt metal blades, each anchored luxuriantly in hilts of dazzlingly multi-colored cylindrical and hexagonal enamel glass. Each handle boasts a carnivalesque array of blue, mint green, red and white in a scramble with copper adventurine and a variety of millefiori canes including complex stars, cogs, circlets and several types of roses considered to be the progenitors of the famous Clichy rose cane…and more; you'll have to read the catalogue. But really – what couldn't taste like a royal feast when your wielding a king's ransom just to cut and spread with? Safe for peanut butter. Do Not Microwave. And really, if you buy the set – we'll "spill the beans" and tell you the name of the host! Est. $16,000—20,000
"Sticking" to the Theme of a Feast, We Offer Some Lovely Pastry!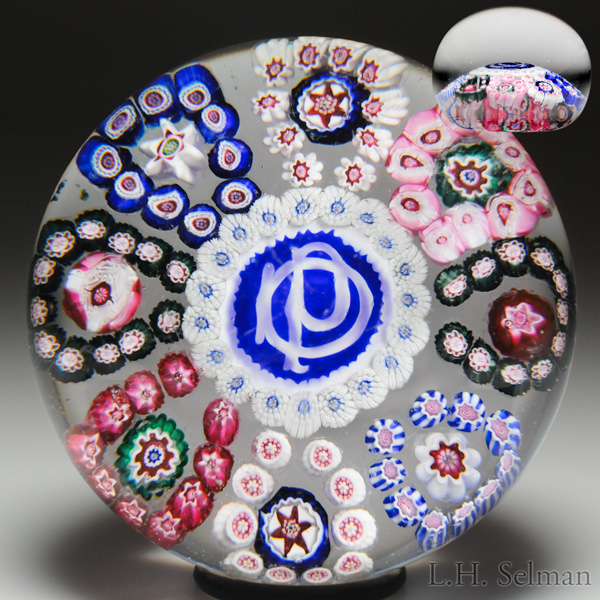 LOT 10. Rare and notable antique Pantin monogram and patterned millefiori paperweight. Here we have seven C-scroll garland loops of ten or more contrasting and tasty pastry molds or millefiori; each has an eighth loop of ten pink and white tube roses, often presumed to be early or late Clichy or even Val Saint Lambert, that radiate around a central stardust ring like so many petals. Each loop sports either a pastry mold or a large six-point star, with the exception of one large and lush tube rose. A cut-out monogram of the letters "D" and "P" in a blue painted cog almost appear to have been lovingly exuded by a cake decorating gun finishing a birthday surprise. These letters have been associated historically with the initials of the Duchess of Parma. This well-documented offering is presented in The Art of the Paperweight: Challenging Tradition (p.34), and the Selman Summer 1995 auction catalogue, Important Paperweights from the Collection of Charles William Gaylord (Lot 115). Est. $4,000—6,000
And What Garden Table is Complete Without Some Honey?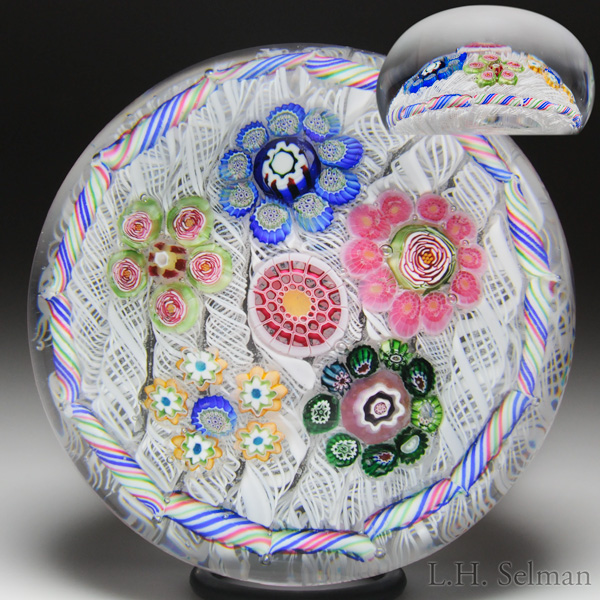 LOT 11. Antique Val Saint Lambert patterned millefiori circlets and rose canes paperweight. With the brightness of a child's kaleidoscope but also offering a design sophistication more resembling a Swiss watch, this luminously happy, high keyed paperweight gives out light as though it's plugged into a wall socket. It could change your mood faster than chocolate. And it has honey! A perfect pocket of honey-colored cane reigns in the center of a delicately reddish/pink and white honeycomb surround. Five seemingly independent but satisfyingly complementary satellites dance around in a cheerful constellation. Each satellite has different center cane attended by between 5 and 10 smaller complex canes. They are all buoyed by a stream of floating parallel white latticinio twists, which is itself embraced by a necklace of striped, candy-cane colored twists. This is flat out, one of the happiest antique weights you'll come across! Est. $3,000—4,000
And the Butterfly Completes the Garden…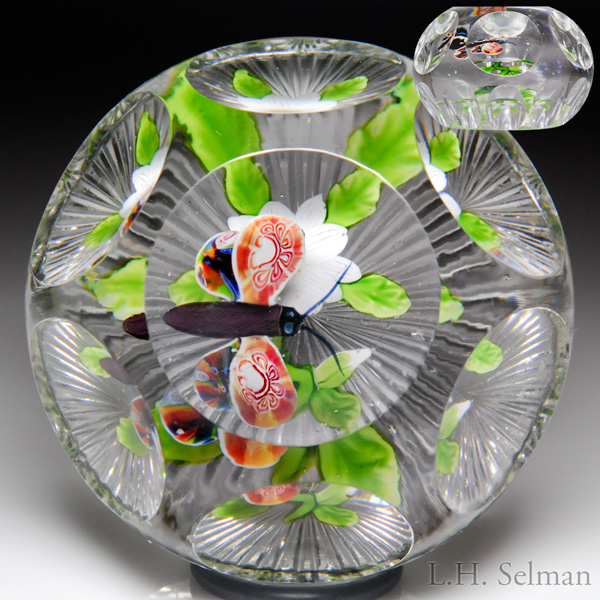 LOT 14. Spectacular antique baccarat butterfly over white double clematis compound faceted paperweight. Another honeycomb holds the center of the lovely white clematis, but you have a wait a moment until the butterfly passes before you can view easily. The butterfly, which in cultures around the world symbolizes endurance, change, hope, and even life itself—is here rendered in a most subtle fashion. The precise, small bluish eyes gaze at nothing in particular. Its top set of wings are tattooed with a pleasing set of related patterns that seem to have been applied with an eye dropper and spread out just so, to satisfying conclusion—and which on closer inspection reveal themselves to be carefully heated slices of millefiori. The lower wings, half concealed, are a quiet riot of scrambled color, discharged with energy from some tiny but potent palette, and they resemble in no small measure, certain efforts by the renown oil painter Sam Francis. Our little friend, when light intervenes, is shown to consist of an almost gossamer, purple latticinio flattish tube body. Multiple facets amplify the sense of movement within with the additional aid of the star-cut base. Est. $7,000—9,000 Here we'll regretfully depart from the antique as we only have so much space and time (a problem we all have) and jump more than 50 lots ahead to introduce a few examples from the contemporary wing of the auction.  So just remember there are 76 fine and outstanding examples of the antique that demand close inspection, and we stand ready to supply you with condition reports and additional photographs of those weights that particularly catch your eye.  So let us now dip our toes into the most recent two centuries.
And Now for Something Completely Different!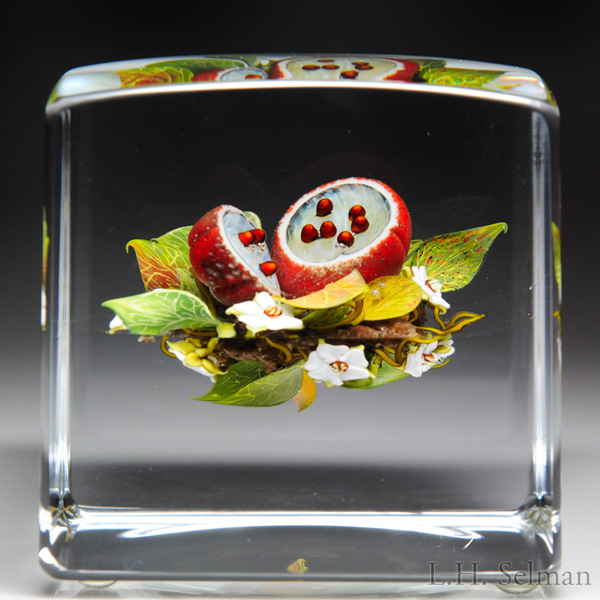 LOT 80. Paul Stankard passion fruit cube paperweight. Okay, not to totally exhaust the food and garden metaphor but this was too perfect to resist. We have a wondrous array of Paul Stankard weights to offer from the subtle to the stunning, but this presentation of passion fruit is too delicious not to share here. The red skin and seeds,, the pale interior flesh, finely nestled among the leaves and soil with all the colors of the fecund earth almost beg to be a centerpiece on a formal garden table – a proper setting with which to begin every meal. Est. $4,000—5,000
Serene and Sensuous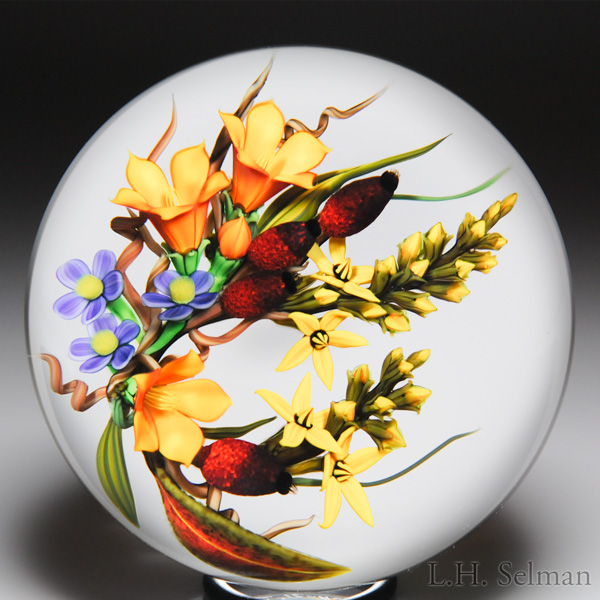 LOT 90. Chris Buzzini 2012 bellflower bouquet paperweight. We have a half dozen classic Chris Buzzini weights this time and everyone knows Chris' work as exemplifying a serene sensibility with an almost eastern approach to the use of negative space in his generally spare compositions. This lot is one where Chris breaks out a little with a typically clean and well delineated design, but with a more lush and sensuous over all feel. We wish you all could hold this (and all our offerings) in your hands. Est. $2,500—3,500
A Medieval Tapestry?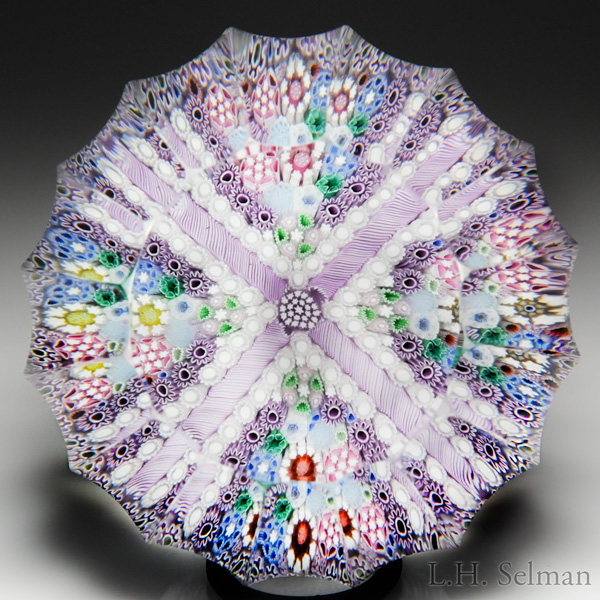 LOT 182. Jim Brown 2017 lavender cross-patterned millefiori fluted faceted paperweight. We're fortunate to have three Jim Brown weights for this party. This elegant work has the feel and look to some of us of a detail from a French medieval tapestry. The central stardust cane rests at the center of four lavender millefiori tubes that appear to be woven of finest thread. The four close-packed millefiori garden quadrants have been executed with a quiet precision, giving an over all spirit of tranquility, something that is welcome in our frenetic culture. The fluted side faceting adds to the gracefulness. This piece will lower your blood pressure while putting a grateful smile on your face. Ask for extra images of this. Est. $850—1,000
We See These Once in a (Cobalt) Blue Moon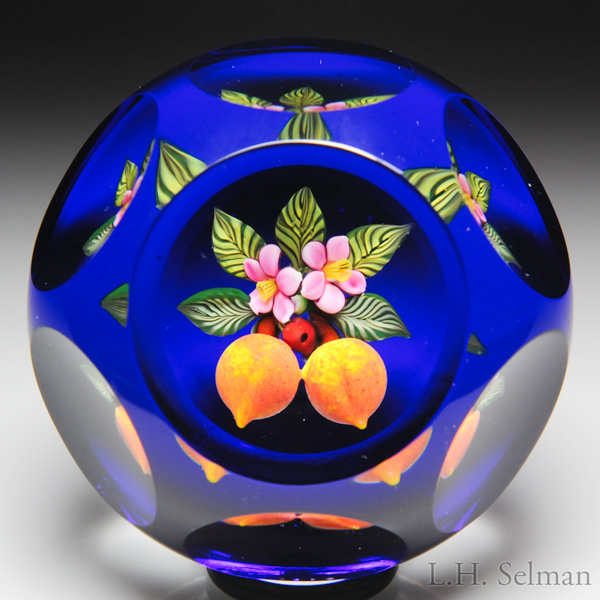 LOT 188. Johne Parsley 1992 peaches and blossoms miniature faceted paperweight. A flawless pair of delectable peaches and blossoms with crimson cherries nestled between on variegated leaves amount to a handsome, compact and balanced composition proving once again that sometimes the very best things come in small packages. Bathed in an intense translucent blue. You just may have to battle for this one, as we're rarely lucky enough to snag a Johne Parsley for one of our auctions—but believe us, this is worth competing for. Each of the six symmetrical facets offers a marvelous view of the entire arrangement. At just over two inches in diameter, this truly has the look and feel of a large jewel, with perfect colors and striking optics. Est. $800—1,000
Do You Believe in the Fourth Dimension?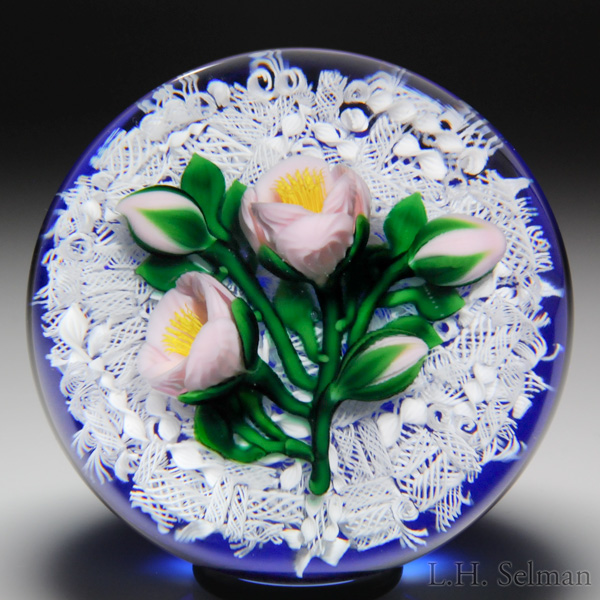 LOT 189. James Kontes pink roses and buds on white upset muslin paperweight. Really, the voluminous dimensionality of this weight coupled with its masterful but playful sensibility are something you should see. There is a boisterous life to the stems and leaves as they carry strength to the flower giving an over all feeling of good health and well-being to the composition. The opulent pale pink roses are offset perfectly by the extreme delicacy of the stamens, which are fine as human hair. The upset muslin cushioning it all has a light-hearted quality while the translucent cobalt ground adds to the finesse. Est. $3,500—4,500
Speaking of Playful…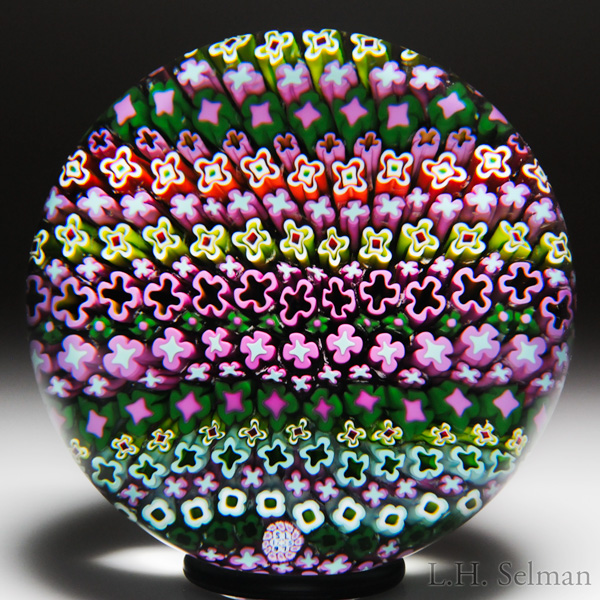 LOT 206. Saint Louis 1975 "Hawaiian Millefiori" paperweight. Joyful strips of turquoise, verdant greens, tropical magentas and white flower canes flow along before your eyes like so many airborne blossoms. We're told Paul Jokelson, inspired by a shirt, suggested this design to the people at the Saint Louis factory. You can meditate to the vibrant rhythms of that island paradise and save the airfare in one motion. Est. $500–$700
And Speaking of the Theme of "Fall"…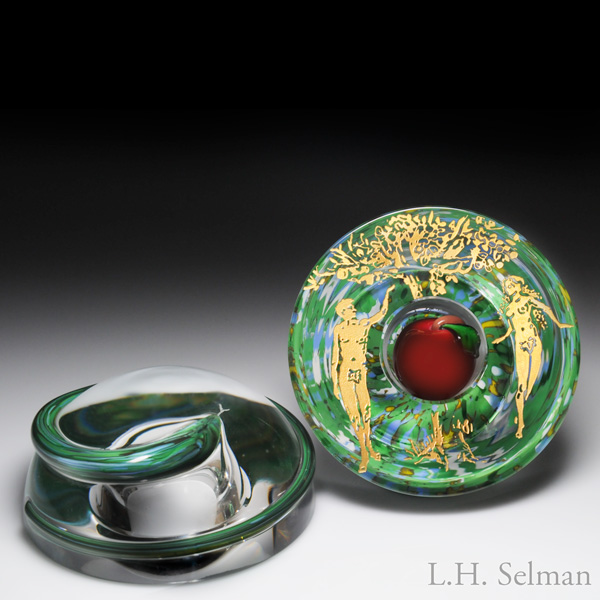 LOT 209. Saint Louis 2003 "Temptation" serpent and apple three-section paperweight. This is a beautiful way to embrace the idea of the fall from grace and the struggle to be human. (Never listen to garden critters.) Here we have a removable lid that features a marvelously life-like serpent who, when the weight is closed-surrounds the richly red apple. When opened, we have the golden-etched Adam and Eve separated by the magnificent symbol of knowledge and carnality all while its appearance belies the price to be paid for hubris and transgression. Remove the apple at your peril, and don't forget to lock the garden gate behind you. Est. $1,500—2,000
You Could Look at This for Years…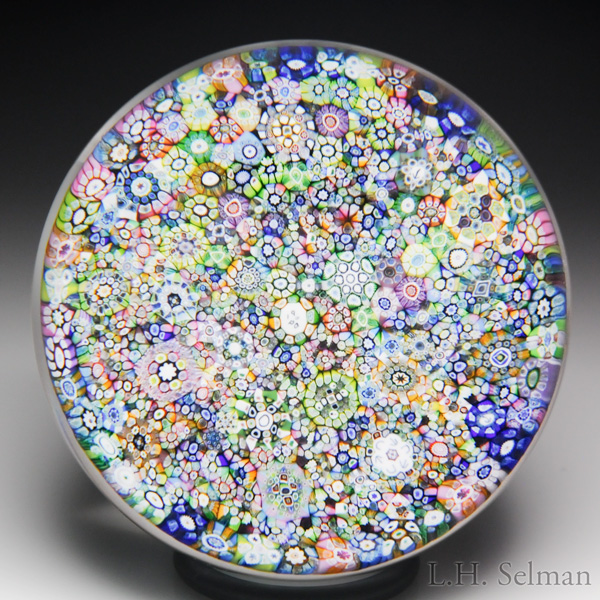 LOT 314. Perthshire paperweight 1986 close packed millefiori paperweight. After counting to just over 6,175 (or was it 6,176?) we lost track of the number of individual canes and have to begin again, or you can become the new owner of this phenomenally dense packed weight and call us with the eventual count. Seriously this pointillist study is amazing. It actually shimmers with detail and a feeling of movement as your eye is teased back and forth across the surface. The multitudinous shades of color nonetheless coalesce into a harmonious landscape that can leave you with the feeling of flying above all the gardens on the earth knitted together. Est. $500—700 That's it for now! The merest 'taste' of things to come, and thank you for allowing us all the food and garden analogies! Remember initial bidding starts October 23rd! Good Luck to you all.