Alison Ruzsa
SPIRIT OF THE MOMENT
"graceful gestures in glass…"
L.H. Selman Ltd. is extremely pleased to announce the upcoming appearance and studio demonstration of a unique voice in the world of art glass today.
Alison Ruzsa, the artist, who lives in New York, will be in Chicago on September 22nd and 23rd. Please join us for a reception, exhibition and live studio demonstration that weekend.
Alison has been active and successful in her pursuit of creative glass making of all kinds for close to three decades. Her recent glassworks are known for combining color sensitivity, romantic tableaux, and a touch of wry humor in multi-media. To learn more about Alison click HERE to read her Biography and Resume. To see works available from Alison please click HERE. Alison will be bringing fresh work with her for the show, so yet another reason to join us!
This will be your only chance to see Alison Ruzsa in a live demonstration in the Chicago area for some time to come, so please avail yourselves of this opportunity the weekend of September 22nd & 23rd. RSVP via our contact page today.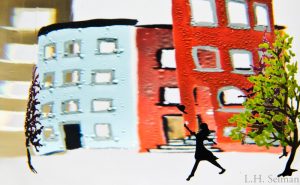 : Event Schedule :
Friday, September 22.
4 pm – 6 pm – Artist Reception Libations at the LH Selman Gallery. Alison's works will be available for viewing and purchase.
6:30 pm – Lakefront Dinner Alison and the Selman team will be at the nearby
Columbia Yacht Club in a unique but informal setting aboard the historic
Great Lakes Steamship, Abegweit.
((Dinner, $25/person (or comped with paperweight purchase per person)
Limited Menu: Cash bar))
Please R.S.V.P. to the Selman Gallery Saturday, September 9th.  Contact Us
Saturday, September 23.
11:30 – Midwest PCA members (only) will enjoy a members' lunch at Salerno's Restaurant in West Town. To RSVP or become a member of the Midwest PCA
please contact Nancy Alfano via the Midwest PCA website: www.midwestpaperweightcollectors.com
1 pm – 3 pm – Introduction to Alison followed by her live studio demonstration made possible by the kind permission of our associate and the owner of Talisman Studio, Sharon Gilbert. Sharon, herself an accomplished glass artist and instructor, will also be assisting Alison, which is both deeply appreciated and valuable. During this time the artist's new works will also be on display and available for purchase. The Talisman is located at 469 North Racine Avenue in the West Town neighborhood.  Convenient Parking available.
After 5 pm – Following a break for Alison post demonstration, Alison Ruzsa, Nancy Alfano and members of the Selman gallery staff will be convening for a comfortable dinner at a restaurant somewhere between the Talisman Studio (469 North Racine Ave.) and the Loop. You're welcome to sit with us or around us and share convivial conversation with the glass-loving devotees. Individual checks. Please R.S.V.P. to us (without commitment) – by September 1.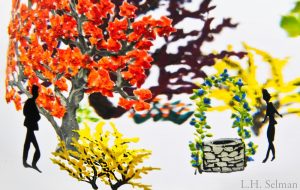 Location of the Demonstration:



Sharon Gilbert
Talisman Glass Studio
469 North Racine Avenue
Chicago, Illinois 60622
Tel: 312-455-9555
www.talismanglass.com


Midwest Paperweight Collectors
Website: http://www.midwestpaperweightcollectors.com/
Email: info@midwestpaperweightcollectors.com
Tel: 312-623-0001


L.H. Selman Ltd.
410 South Michigan, Gallery 207
Chicago, Illinois 60605
Tel. 312-583-1177
info@paperweight.com
www.theglassgallery.com