L.H. Selman Ltd. is proud to announce its Winter 2016 62nd fine art glass paperweight auction with 336 antique and modern pieces, including several paperweight related objects. The auction is fully online, hosted on our website, and the catalog can be viewed at http://www.theglassgallery.com/auction-catalog/. You can also see all auction lots in person at our 410 S. Michigan Ave., #207, gallery in Chicago, 9am to 5pm; we would love to see you in person! If you prefer to place bids by phone, just give us a call at 1-800-538-0766. Initial bidding has started and will end Monday, March 14. If you see something to your liking, do not hesitate to place an initial bid: you never know what surprising reserves will be revealed or what exciting competitive bidding will follow that can bring home the piece of your dreams!
Recherché
With regard to the surviving antiques of the Classical era (circa 1845-1875), some were designed using techniques that are mind blowing for their time. Particularly impressive are the first few lots of the auction.
This important art treasure is perhaps one of the most unique museum heritage quality paperweights in the world. It is one of two pieces of this kind that we have identified. Both are pictured in the 1991 PCA Bulletin, pages 2 and 20. The famous French glass atelier, Saint Louis, created this paperweight during the classic period between 1840 and 1855. This tour-de-force of French glass mastery combines in a single work of art all of the most difficult techniques in use during the classical period of paperweight artistry. The upright bouquet at the center of the paperweight is of five lampwork and millefiori flowers cradled in a bed of lush green leaves. One of the most difficult features to achieve successfully in the production of antique glass paperweights was the colored overlay. This paperweight dazzles the viewer by showcasing not a single, but a double overlay that encases the internal bouquet in a rare green-over-white composition that announces to the viewer its unique forest and hunting motif. There is a single top aperture and there are two very rare opposing side oval apertures that serve as fanciful windows to the scene within. The rarest features of this paperweight are two cut-out silhouettes; one in the likeness of a stag and the other of a running hound. For either animal to be cut into the interior of a paperweight would be astonishing. To have both animals featured within a single paperweight in such an elaborate, artistic composition is truly rare and remarkable. Finally, the entire composition was encased by the Saint Louis master artist with a thick clear layer of crystal, all of which rests upon a clear star-cut base. The Stag and Running Hound Double Overlay is the very highest poetic expression of the great art of classic French glass mastery.
An astonishing display of seven ripe, freckled, lush dimensional strawberries, each cradled within a chamber of sepals, includes a single white blossom with yellow stamens and five ribbed green leaves. "The motifs are very three-dimensional, almost tempting one to reach in and pluck a strawberry…" — "The Dictionary of Glass Paperweights".
"These paperweights rank among the most beautiful and sophisticated in the genre." — "Paperweights: Collection Friedrich Bader, Wiener Kunst Auktionen". For similar examples of both lampwork and cutting, see PCA Bulletin 1992, pages 12 and 13, and "Fine British & European Glass & Paperweights", Bonham's auction catalog, November 30, 2011, pages 74-89.
The above pieces are amazingly rare and impressive, but here are a few more to note…
The Elusive
We have the good fortune to be able to offer you several pieces by artists that, for a variety of reasons, do not go by our gallery often. Do not miss this great opportunity to add one of these to your collection since we cannot promise when they will be back.
On the opposite end of the spectrum, here are pieces that everyone will recognize:
Hollywood Star
If you would like to add a celebrity piece to your collection, we are offering a famous and glorious Satava "Moon Jellyfish" as Lot 164. Famous in the sense that two of its relatives appeared in the Marvel movie, "Guardians of the Galaxy".
Famous Faces
Speaking of famous, Tutankhamen (Lot 203) and Sitting Bull (Lot 330) are also making an appearance in this auction.
Only Every Four Years
You may think that we mean the US presidential elections, but we really mean the Summer Olympic Games. But since we want to practice a bit of worldly diplomacy here, we included a paperweight for the die-hard fans of each cycle.
You may have different needs than you did during our last auction.
Maybe you are looking for something with a different function.
Functional Related Objects
Not that we suggest that you use your precious paperweight related objects for any functional purposes, but these objects were indeed designed to add a touch of style to daily-task accouterments. Should you want to accessorize beyond your paperweight collection, or perhaps you already collect these objects, here are the related objects in this auction: inkwells, a candlestick, a Chinese snuff bottle, scent and perfume bottles, a tumbler, a ring holder, a frame of buttons and sculptures.
For New Collectors
If you are a new collector and want to start reading about paperweights, have a look at Lot 336's book offering. Call or email us if you would like the list of what is included, but we promise, it is extensive.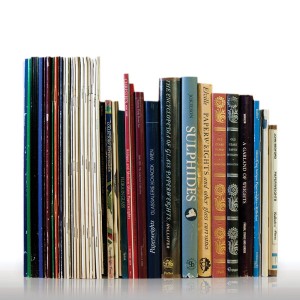 However, the fun does not stop here…
Storytelling: Whimsical and Carefree
Jim D'Onofrio is an exceptional artist who stopped producing paperweights nearly a decade ago. The New Jersey native trained and worked with Paul Stankard in the 80's, so you may notice some resemblance between D'Onofrio's subjects and Stankard's Root and Spirit People. He made paperweights on his own in the 90's and early 2000's after relocating to Carefree, AZ. You will find a nice timeline spread of his work in this auction where we decided to feature as many as 12 of his masterpieces. To quote Paul Dunlop's Dictionary on page 123, "Jim's creativity and sense of telling a story have added much to the art of glass paperweights. He is a superb lampworker whose imagination, when at his best, reminds us of long lost childhood memories or introduces us to worlds we have never seen." We hope that you will find this to be true in these fairytales, desert scenes and vacation moments.
Parliament of Owls
They suddenly appeared on various household products as icons, but icons to what, no one knows. You may know someone who had an owl themed wedding-shower or has owl pajamas or collects owl statuettes. You may revere the owl yourself. Well, you are in luck because there are owl paperweights too!
Rose Patch
Roses have appeared in paperweights since the paperweight's classical period, which is not surprising given the historical and symbolic importance of roses in most cultures of the world. Still cultivated today and representing passion, beauty, domination over nature, among other things, you might find the rose selection in this auction the inspiration to start or continue your own ever-blooming rose patch.
My Heart Will Go On
Tis the season of love (spring will be rolling around any minute now, or at least we hope) and if you are thinking romantic thoughts and are not keen on roses, we did include some more literal love themed paperweights.
The Best Things…
Come in small packages and that is no different for paperweights! That is why we always sprinkle a few of those in our auctions.
There are more beautiful antiques, amazing Paul Stankard and Chris Buzzini botanicals, avians of all types for bird lovers, limited edition Perthshires and other Scottish treasures that we just cannot fit here, yet they are no less deserving of your attention. Everything that is included in our auctions is worthy of attention. We enjoy hearing from you and discussing what is worthy of your attention, so do not hesitate to make contact by phone, email or through bidding in the auction to share with us what it is that you appreciate in a paperweight!
Excerpts and references from the Paperweight Collectors Association Bulletins 1991, 1992 and "The Dictionary of Glass Paperweights" by Paul H. Dunlop.