Daniel Salazar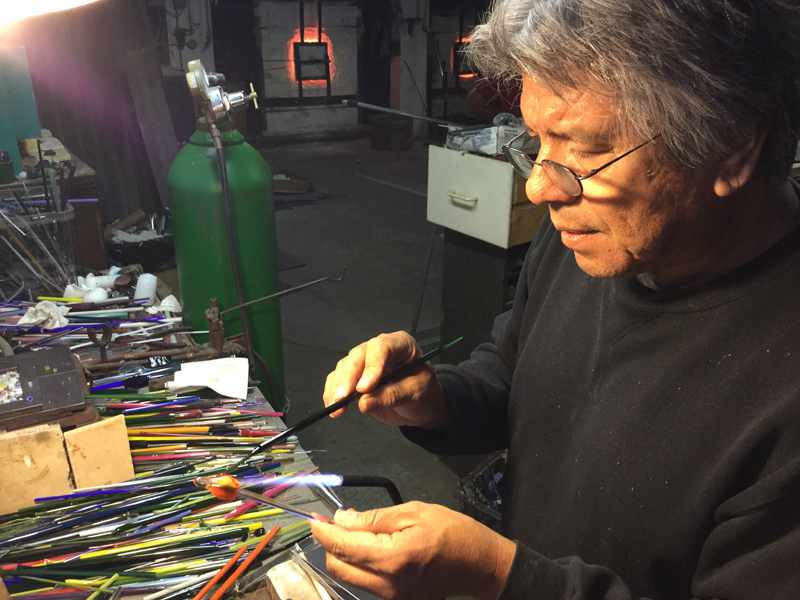 Daniel Salazar is the last artist remaining at Lundberg Studios from the original Davenport team. In the late 1970's, when the studios' glass art style was of a single layer of glass, James and Steve Lundberg, Mark Cantor and David Salazar took on the teenage Daniel as studio apprentice. Daniel would eventually develop the iconic 3-dimensional layering of glass for which Lundberg Studios is well known.

The younger Salazar worked alongside Chris Buzzini and James Shaw. Mild mannered, Daniel Salazar seemed suited for the demands of production, and he remained to learn every method of the "California-style" torchwork glass. Now, he uses them all to achieve international recognition in the glass art world for Lundberg Studios.

Early on, Salazar showed a great flare for design, having been artistic since childhood. His academic studies in drawing and watercolor painting are exemplified in his remarkable, intricate, "painting" with glass. His motivation is to create objects of great beauty, and his soft-spoken demeanor belies an intense iron resolve to finish work "perfectly". He continues to push the envelope in glass vessels and three-dimensional glass paperweights. His work, echoing the nineteenth-century art style, features enchanting subjects from nature: vibrant tropical flowers, mythical birds and magical sea creatures from the Monterey Bay. While he also uses the luster and iridescence that have always marked Lundberg Studios pieces as a Tiffany-style glass, Salazar achieves ethereal compositions that are clearly modern innovations—and stand on their own. Examples of Lundberg Glass signed by the distinctive artist, Daniel Salazar, can be found in permanent collections at the Bergstrom-Mahler Museum of Glass, WheatonArts and the Corning Museum of Glass.