Damon MacNaught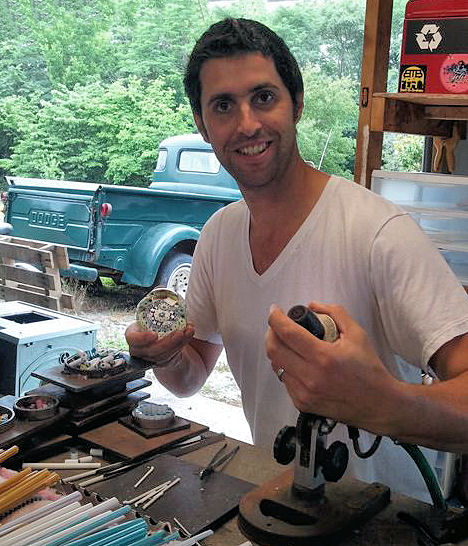 Damon MacNaught lives and works in Silver Point Tennessee as an artist and instructor of art. In his studio "Bare Glass" he makes one of a kind hand made glass art and unique commissions. He is also a full time faculty member at the Art Institute in Nashville, TN where he teaches courses in drawing and design.

Damon received his Master of Fine Arts degree in Sculpture from the University of Illinois in Urbana-Champaign and his Bachelors Degree in Sculpture from Hartwick College in Oneonta, N.Y. He has explored glass as an artistic medium for the past fifteen years. His early professional experiences in glass include Glass Technician at Urban Glass in Brooklyn, N.Y., Artist in Residence at the Appalachian Center for Craft in Smithville, T.N., and Visiting Instructor for the glass department at the University of Illinois in Champaign-Urbana, IL. His work has been included in publications, such as New Glass Review 27, and Glass, The Urbanglass Art Quarterly, also Lark books' 500 Glass Objects. Damon has created commissions for awards given to prominent politicians, and he has been a featured artist on Tennessee public television's Tennessee Crossroads, as well as UI7 News in Urbana-Champaign, IL. His work is in public collections throughout the United States including the Corning Museum and in private collections spanning from the US to New Zealand.

Damon is in his second year of Millefiori exploration. He says, "Arranging murrini under the magnification of the glass dome speaks to properties inherent in the material and allows an outlet to practice my love of design. In my pursuit of perfection, I find the technical challenges of making millefiori paperweights rewarding." Currently, Damon is focusing on creating silhouette canes, faceted paperweights, and paperweight related objects.