Baccarat Moderns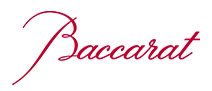 Baccarat began to produce lead crystal paperweights in the 1840s. Their work is classic and at the very pinnacle of art-glass perfection. They ceased production of paperweights in the 19th Century. Baccarat resumed making paperweights in the early 20th Century and continued until a few years ago.

The Baccarat Glass Factory in Alsace-Lorraine, France was one of the first and one of the best glass houses to make paperweights. Consider the type of effort this required: they needed to be near a forest to fuel the glassworks with tree wood; they needed to be near a good source of clean sand for the glass; and they needed to experiment with various minerals to make the colors of the glass. At the time that their first paperweights were made, the factory was in France. After the Franco-Prussian War, it became Germany (1871) and stayed that way until after World War I (1918) when is went back to France. It was occupied again by Germany from 1940 -1944 in World War II. The techniques necessary for works such as these took many years to perfect.

The late 1960s to early 1970s was the dreamland of modern Baccarat. An incredible pulse of experimentation and creativity ran through the Baccarat glassworks, creating unique and short run pieces, some of the most attractive and natural millefiori closepacks ever made, and a wide range of fascinating flower forms.