Yaffa & Jeff Todd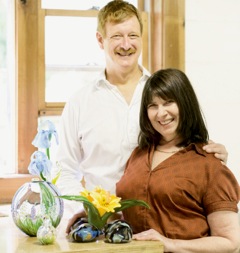 "I make pieces that I myself would like to live with. My background as a painter led me to relate to clay forms as three-dimensional canvases; when I began blowing glass, the dimensions of motion and flow were added. After some experience, I have found that working in crystal glass allows me to use reflections and two sides of the piece visually interacting, as well as the pure optical qualities of the medium. To achieve these added dimensions, it has become of utmost importance that the basic glass be immaculate and this control has only been reached with years of batch tests and equipment refinement. I use lamp worked imagery in some of my work. Nature is my inspiration. I use nature as an impulse, blending my feelings and fantasies I add and delete as I deem necessary to achieve a piece that will evoke a feeling of wonder and intrigue." (Yaffa Todd)Our three-dimensional flower forms, (floral sculptures), are a direct reflection of our concern with the quality of the glass and our enjoyment of the actual blowing process. They demonstrate our interest in creating pleasing, well-balanced forms, which retain the feeling of flow that is inherent in hot glass, and impart a feeling of life. To achieve an artistic harmony and overcome the enormous technical difficulty of executing these pieces, we must work as one, in perfect harmony. Yaffa was born in Tele Aviv, Israel. After completing her BFA in Ceramics at the Philadelphia College of Art, she worked as a studio potter for two years. She began graduate school at the Rochester Institute of Technology in January 1975, majoring in glass. During her second year at RIT, she began the extensive investigation of opal glass systems, specifically fluorine opal glasses that became the subject of her master's thesis. She continues this research today in their studio in Burnsville, North Carolina. Yaffa was the second woman to teach glass at Penland School. This was during the summer of 1978. Since then, both she and Jeff have taught together many times.
Jeff, from Philadelphia, PA, majored in jewelry and glass at Southern Illinois University. He became interested in glass in the early 1970's, taking classes at SIU and at the Penland School of Crafts. His skills with metalworking and glassblowing may be seen in many of his early pieces. His talent for design, drawing and equipment building made him a perfect match for Yaffa. They met in 1980, when Yaffa was building her studio and Jeff stopped by to see if he could help. Within a few months they were working together; a few years later they married. In 1985, they moved their house and studio to their present location in Burnsville, North Carolina.When they first began working together in glass, they made goblets and perfumes. They next added lamp worked flower imagery to the bottles, which evolved into larger glass forms as the scenes were extended to include mountains and trees. These original pieces were approximately 12" x 12". When Yaffa and Jeff were invited to a show in 1987, they were encouraged to scale down their glass forms. This project became their "Memories" series.In the "Memories" series, vertical glass scenes are presented with multiple layers of imagery to create intricate, self-contained worlds. To achieve the finished pieces, the artists use furnace glass and a glory hole with a combination of hot glass techniques and lampworking. Yaffa melts all of the colors and crystal glasses in the studio using formulas that she has developed over the years. Yaffa and Jeff make all of their own millefiori canes. The millefiori canes are pulled, cut, preheated and placed one at a time on the hot glass. With their colored canes, the images are drawn and dotted on the glass using a torch. Designs that are viewed from both sides have to be made using a reverse and positive method, slowly building up the colors to create the final image. The piece is then encased in crystal, flattened and put in an annealer to cool down over many days. Once cold, the glass piece is machine ground to its final shape and polished.Yaffa and Jeff's "Nature weights" are traditional style paperweights. By using the lens-shaped horizontal form, they create a window for the viewer to look through. Most of their images come form childhood memories and their present environment. They use the gardens around their house, the river behind their studio and the magnificent North Carolina Mountains for their inspiration.The "Still Life" series is another direction for the paperweights that they have been creating. This series looks at the traditional heritage in painting. We have reworked the idea to apply to torch worked images inside glass.
Yaffa Todd and Jeff Todd have worked together since 1980 in their Burnsville, North Carolina studio. They exhibit nationally and internationally. Their work is included in many private and museum collections, including: LaGalerie Internationale du Verre, Biot France; Asheville Museum of Art, Asheville, NC; Berstrom-Mahler Museum, Neenah, WI; C.J.S., Inc, Raleigh, NC; Chrysler Museum, Norfolk, VA; Ford Collection, Rochester, NY; Glasmuseum, Ebeltoft, Denmark; Glasmuseum Frauenau, Bavaria Germany; Haaretz Museum, Tel Aviv, Israel; Hickory Museum of Art, Hickory, NC; Kestner Museum, Hannover Germany; MBNA America Corporation. Newark, DE; McDonald's Corporation, Oak Brook, IL; Mint Museum, Charlotte, NC; North Carolina Museum of History, Raleigh, NC; R.J. Reynolds Industries, Winston Salem, NC; Rochester Institute of Technology, Rochester, NY; Wheaton Museum of Historical Glass, Millville, NJ; Columbia Museum of Art, Columbia, SC; Baltimore Museum of Art, Baltimore, MD.