Julie Scrutton Lewis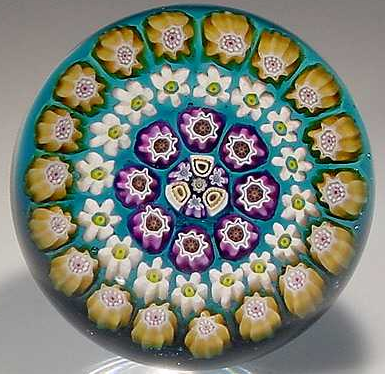 Scrutton-Lewis had the family advantage, but still had to prove her mettle. Since 1986, she worked alongside her mother Doris and father Gary Scrutton, and similar to the apprentice system of the nineteenth century, she did much of the set up work, prepping the workshop for production. It was through these years of learning by watching and working, that she began a series of glass buttons. Although they were miniature presentations, Scrutton-Lewis' attention to detail and intuitive sense of color and design gained her buttons praise. She then began to regularly contribute her designs to the workshop, in the form of buttons and jewelry.

In 1998, Scrutton-Lewis began a new phase of glasswork, mentoring with her father, (who has since ceased Parabelle's production) to learn the techniques of creating millefiori paperweights. Scrutton-Lewis designs in the cold-glass method, similar to contemporary lampworkers. And she truly excels in presenting her millefiori, whether in closepack, scattered, or concentric styles; they are assured and complete compositions. Scrutton-Lewis tends towards smaller paperweights, but they are no lesser in impact, because they are confident and delightful designs that seem to dance in your hand. With her upbringing among the Parabelle workshop, whose own designs were Clichy-inspired, Scrutton-Lewis has clearly learned from others whose experience is invaluable and whose models of art and craft were impeccable. This has imbued her paperweights with not only vibrant color-palettes and cane designs, but also with the true presence of a finely made, classical objet d'art–worthy of any collection.