Randall Grubb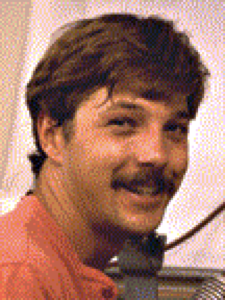 Randall Grubb was first introduced to hot glass in USC's art department. He fell in love with the hot glass process for its seemingly unlimited potential. Grubb wrote his senior business plan on opening a hot glass studio. As part of his study he worked for Correia Art Glass in southern California as an equipment builder. Such in-depth exposure to the many facets of hot glass gave tremendous experience to the young and talented Grubb; it also gave him his introduction to paperweights.

At the studio he met paperweight artist Chris Buzzini who greatly influenced his future career, giving him guidance and training in the art of making paperweights. Since Grubb was employed as an equipment builder, he was able to roam the studio freely, observing and asking questions. Chris Buzzini oversaw the first couple of weights made by Grubb. Buzzini had a great deal of technical experience behind him, while Grubb had experience in equipment building and had ideas to offer in that area. His first weights were made with torchwork procedures, but he found they lacked the three-dimensional capability he wanted. When Grubb met Larry Selman at an antique show in southern California, he saw lampwork weights for the first time and was thoroughly fascinated. Shortly afterward he began experimenting with this technique. At first he constructed the individual lampwork elements and included them in glass pieces such as perfume bottles. When he acquired the equipment necessary to encase the elements in crystal he was already quite proficient at making lampwork motifs.

Grubb currently designs and creates his own line of lampwork paperweights in his Oregon studio. Because he pulls his own canes to obtain exactly the right shade, his use of color is exceptionally delicate and satisfying. Floral weights are his first love and main focus. Many of his weights contain full, colorful bouquets with high domes. His bouquets have become increasingly more complex in color, design and fullness. Randall Grubb engraves his name and the date on the side of each weight and has recently included a signature cane in his work.