Bob Banford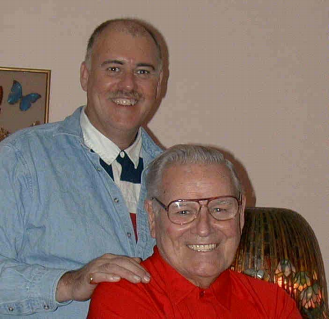 Ray and Bob Banford are a father and son team who started their glass journey in the early 1970's. Ray was interested in collecting, buying and selling art glass, while Bob was interested in the art of glass blowing. Ray bought Bob a torch for a graduation present and it started their journey into the art. After years of trial and error study they produced their first saleable paperweights in 1973.

Paperweights from the antique classic period of the 1840's were their inspiration. They were the culmination of the finest skills and products from the factories at that time. The clearest of crystal, most intense colors, and the skills of the best glassblowers were incorporated into the making of paperweights. The most talented glass cutters finished the pieces. The Banfords have continued this practice today. By searching for the best colors, using only the finest of optically clear crystal glass, they have honed their art to a point where pieces by the Banfords grace many private and public collections. These paperweights are in the permanent collection of the Smithsonian Institute, Corning Museum of Glass, Chicago Art Institute, Museum of American Glass at Wheaton Village, Bergstrom-Mahler Museum, and many others.

Although Ray is semi-retired, they both continue to further their skills adding new techniques to their work and expanding their ability to produce the finest paperweights. Their work is individually signed internally with their own distinctive initial cane. Ray's signature cane is a black "B" in a white field; Bob's cane is a red "B" in a white field with a cobalt blue.