Lawrence Selman is considered by many to be the foremost dealer of collectible paperweights in the world today. Born in Cleveland, Ohio, he was introduced to the world of tine furniture and antiques at an early age. He studied at Kenyon College; at University College, London; and at Yale University, receiving a Ph.D. in organic chemistry in 1966. Subsequently he taught at the University of San Diego and at the University of California, Riverside.
Selman is a musician of some merit, specializing in early music; it was through this interest that he was first introduced to paperweights. "A musician friend of mine lived in a remote and rustic setting," he recalls. "Each time 1 visited, he showed me a different group of collectibles from his wide and varied interests. Once it was fine Japanese prints; another time he introduced me to the nuances of American folk art. One day he brought out his paperweight collection. For the first time I saw the intricacies of the millefiori canes and the splendid colors captured in them. At once 1 imagined the pleasures of owning and collecting these small works of art."
Selman's interest and knowledge grew as he began to acquire weights—at first slowly and carefully, and then with exuberance. In 1969 Selman started a small mail-order business introducing more people to this specialized field. I Ie published the first Catalogue of Collectors' Paperweights in 1970 from the business's first location in San Diego. In 1971 the business was moved to San Francisco and finally relocated in Santa Cruz in 1974. The next year Selman published Paperweights for Collectors under the imprint of Paperweight Press, forming the only publishing house in the world devoted exclusively to publications covering the field of paperweights. Since then Paperweight Press has offered collectors an extensive selection of titles ranging from reprints of classic texts to contemporary monographs on emerging artists.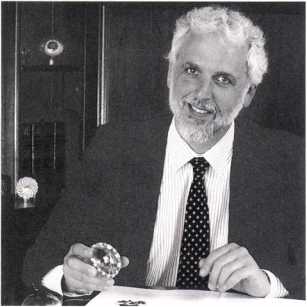 With over twenty years of experience in the world of fine paperweights, Selman is in a position of preeminence in the field. I Ie is the exclusive dealer for some of the most prestigious glasshouses and individual artists in the world. Many of these artists entrust to him the marketing of their total output because of the strength of his reputation internationally. After all these years Selman admits, "When I see an artist's new work or an unusual antique example, I am still as excited as I was in the beginning. Artists are continually presenting their latest creations. Seeing these new pieces, or some innovative design, or getting a young artist started—these are the things that make the switch from academia to the world of paperweights still worthwhile."